The Narathiwas Residence, Service Apartment
379 Narathiwas Soi 24 Sathupradit, Chongnonse, Yannawa, Bangkok 10120
Tel : -
Fax : -
Email : info@n-inter.co.th



-Total 23 Floors.
-Room inventory: 326 Units.

The Narathiwas Residence offers guests the "Homely feel"of Rasidence combined
with convenience of a hotel at an affordable rate.

The Narathiwas Residence is located on the Heart of Bangkok and short drive to the Financial and Banking district with surrounding
by the famously shopping Central Department Store Rama III and Tesco Lotus super markets.


Choice of Serviced Residence

The 23 Floors of The Narathiwas Residence will Include some of the most modern and aesthetically pleasing
facilities in Bangkok.These include a 50-metre swimming pool, Gym, Yoga, Aerobic studio, Steam and Sauna, while other
attractions include a full concierge service, Children's playroom, Rooftop landscaped gardens,
2tennis courts and cover car parking.
All the stylishly furnished apartment are fully equipped with all the amenities and modern comfort you will need
or are used to at your home. The design of the rooms is contemporary with warm shades of colors. Polished wooden floors,
rich fabrice and sleek furnishings.A selection of 326 rooms is furnihed from 1-bedroom, 2-bedroom and 3-bedroom apartments.
With modern decor and fitted with the latest in-room technology. Well-designed kitchenettes and lounges provide guests
with the option of dining in or entertaining in the homely surroundings of the apartments.

Living at The Narathiwas Residence is akin to having your own private residential space alongside the convenience
of warm and intuitive thai hospitality.

This is the ultimate answer to both families and executive guests who wish to enjoy a private bangkok experience
with thai hospitality personal service touch.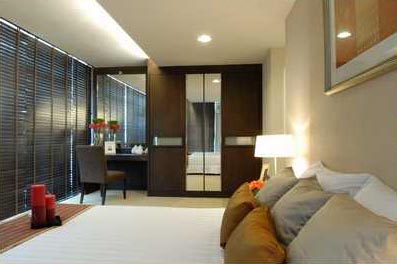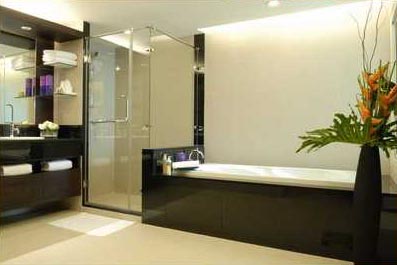 With separate living and bedroom areas, you have your choice of places to stretch out and restore your energy.
Eat in anytime. With a fully equipped kitchen, You can skip the drive for dinner.
Fully furnished with contemporary of living style( dining, kitchen and bedroom ).
Spacious One-bedroom, Two-bedroom and Three-bedroom with separate living space.
Air-conditioning with individual controlled.
Bathroom amenities with separate shower room.
Comprehensive Home Entertainment system.
LCD TV ( 32"-50")
Cable television with 60 channels provided.
DVD mini hi-fi player.
IDD telephone.
Voice mail.
In-room personal safe.
Electronic key card access.
Modern and well-equipped kitchenette.
Steam iron, Ironing board & Hair dryer.
Hi-Speed Internet access with Wi-Fi system.
All residence with CCTV channel provided.
Emergency Electricity back-up ( Generator).
Hot water system.
Springer & Smoke detectors.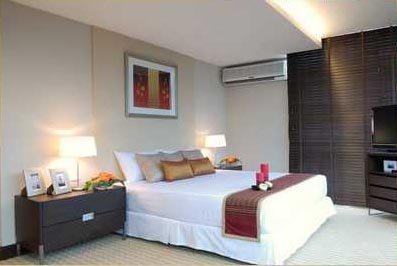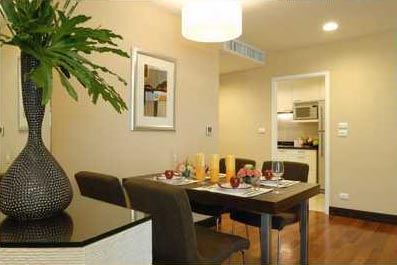 Daily maid service.
Concierge 24 hours.
Business Center.
Laundry service ( Dry cleaning).
Launderette Token Washing Machine and Dryer.
Room service.
Kid's Club & Babysitting service.
Conference rooms.
Indoor Swimming pool.
Outdoor Swimming pool ( 50 meters).
2 Tennis courts.
Executive resident lounge with Library conner.
Fitness Center with Fully equipped.
Separate Male/Female Steam, Sauna & Jacuzzi.
Restaurant with International Foods.
Free parking space.
Security 24 hours with CCTV system.
Shuttle Bus service to Shopping center & BTS Sky Train.
Limousine service.
Room Type

Area

Monthly Rate

One Bedroom Superior

42 Sq.M.

One Bedroom Deluxe

46 Sq.M.

One Bedroom Premier

75 Sq.M.

One Bedroom Executive

83 Sq.M.

Two Bedroom Superior

83 Sq.M.

Two Bedroom Deluxe

90 Sq.M.

Two Bedroom Premier

100 Sq.M.

Two Bedroom Executive

115 Sq.M.

Three Bedroom Deluxe

185 Sq.M.

Three Bedroom Premier

187 Sq.M.

Three Bedroom Executive

190 Sq.M.

Terms and Conditions:
-Rates are in thai Baht & validity for all arrivals from Now before 31 December 2008.
-The above rate subject to 5% of service charge and 7% VAT.
-Rates are included daily maid service, daily towel change, Fitness center, 2 Tennis courts,
Swimming pool, utilities ( Water and Electricity) if consumed above the Electricity allowance
limit will be charged at Baht 6 per unit KWH on a monthly basis to your account.
-Welcome Hamper & Welcome fresh fruit basket on arrival.
-Stay above one month; one month advance rental and one month security deposit is payable
prior to or on arrival .
-Stay above 6 months; one month advance rental and two months security deposit is payable
prior to or on arrival .
-In case of cost increases, such as utility increase or tax structurea relating to the Serviced
Apartment/Hospitality industry, The Narathiwas will provide a 30-day advance notice of any
price adjustment.
-Extra Bed charge is Baht 10,000++/month.
-Hi-Speed Internet (Wi-Fi) : charge 2,000 net/month.


Rates is valid until 31 December 2008