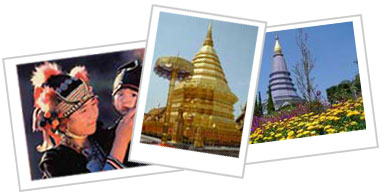 Chiang Mai has a striking mountain backdrop, over 300 temples and a quaint historical aura. It's also a modern, friendly, internationally-flavoured city with much to offer the visitor - food, accommodation and shopping are all top quality and cheap, and the nights are relatively cool.

Thailand's second-largest city and the gateway to the country's north was founded in 1296. You can still see the moat that encircled the original city. Doi Suthep, topped by one of Thailand's holiest wats, rises behind the city, providing a dramatic backdrop and fine views of the city.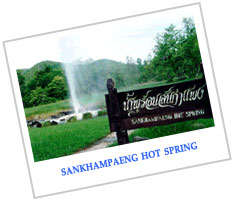 Modern Chiang Mai is easily managed and very traveller-friendly. It's well known for its restaurants and also has heaps of good guesthouses (although the hotel 'safes' are notoriously not). Chiang Mai is a good base for mountain treks, and just about every guesthouse advertises treks to visit the hill tribes who live in the surrounding area. You may want to think twice about joining such an excursion if you have qualms about interrupting the traditional patterns of life in hill-tribe areas. This part of Thailand is considerably overtrekked and some hill-tribe villages have been turned into little more than human zoos Population: 160,000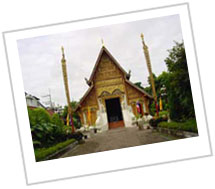 Chiang Rai Chiang Rai city is the capital of Chiang Rai Province, Thailand's most northern province, about 785km (491mi) from Bangkok and at an average elevation of 580m (1,900ft) above sea level. Its area, mostly mountains, is 11,678sqkm (4,508sqmi) and divided i nto 12 districts and 1 sub-district. The most important river is the Mae Kok which is about 130km (81mi) long and flows through Chiang Rai city.

Chiang Rai was founded in 1262 by King Mengrai (see Chiang Mai). At the end of the 13th century, for around 30 years, Chiang Rai was the capital of the Lannatai Kingdom. Later the city was conquered by Burma and remained under Burmese rule for several hundred years. It was not until 1786 that Chiang Rai became Thai territory. It was proclaimed a province during the reign of King Rama VI in 1910.

Chiang Rai is famous for its tasty lychees and the Golden Triangle in Chiang Saen district where the borders of Thailand, Laos and Burma converge.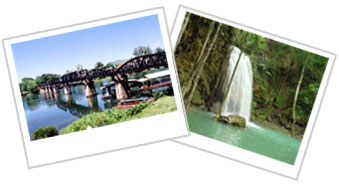 Kanchanaburi Kanchanaburi is the capital of Kanchanaburi Province. This author regards the breathtaking countryside as the chief attraction of the area. However, Kanchanaburi is principally known, not only among war-historians and movie-buffs, as the site of the notorious Death Railway and the Bridge over the River Kwai. Archaeologists come for its Neolithic burial grounds.

The town of Kanchanaburi is about 129km (81mi) west of Bangkok (over a good road, approximately 2 hours by bus or slightly longer by car) at the point two tributaries, the Kwai Noi and Kwai Yai (which have their source in the Ta Now Sri Range) meet and form the Mae Klong River. The present provincial capital is a relatively new town built by King Rama III (reigned 1824-1851) in 1833. The old town was 18km (11mi) away.